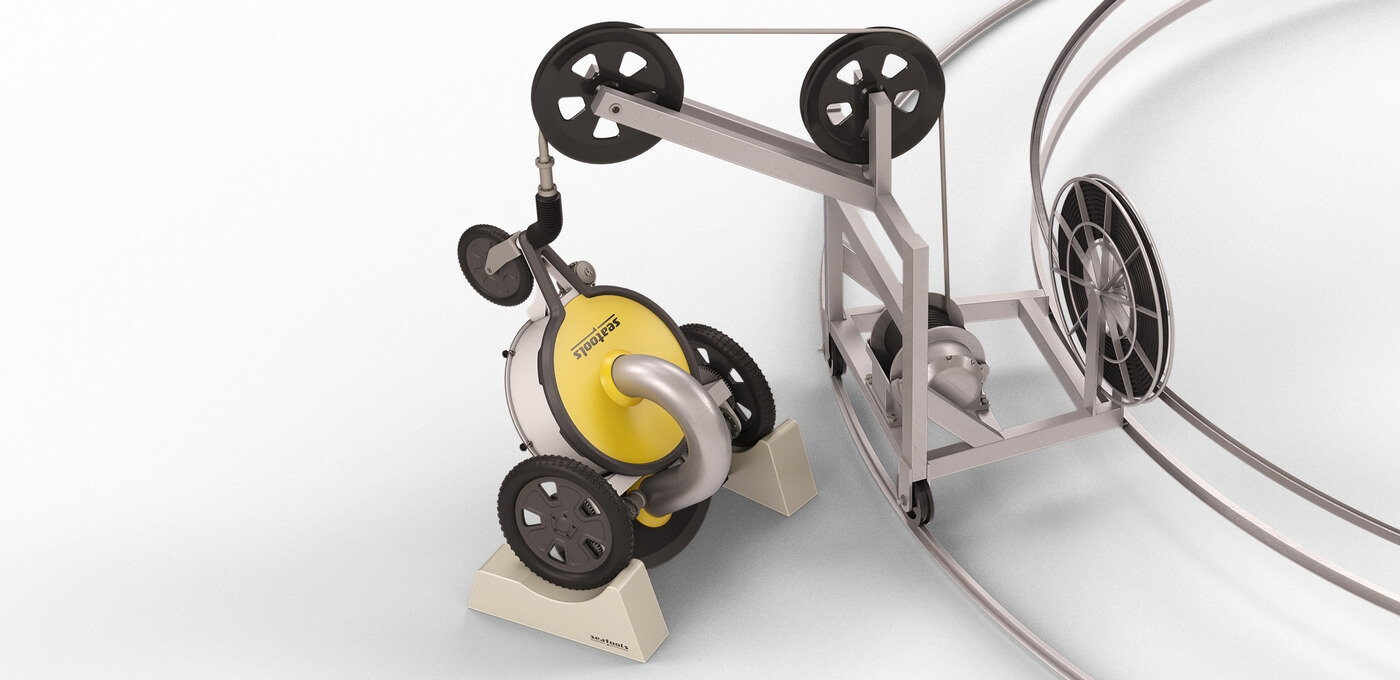 On behalf of its client De Maas SMC, Dutch subsea technology company Seatools completed a feasibility and conceptual design study on a Remotely Operated Mort Collector (ROMoC). The study resulted in a highly automated mort collection system capable of effectively collecting dead fish in large-scale offshore fish farms as currently developed by De Maas SMC. 
In addition to innovative large-scale fish farm concepts, the trend toward offshore fish farming also requires the development of related systems, such as a fish farm cleaning system. This system facilitates efficient and reliable fish-farming operations in hostile and remote offshore environments. By taking a highly structural design approach, Seatools designed and evaluated multiple potential solutions for the various functionalities required by a large-scale offshore mort collection system. A key requirement – a 100% coverage of the fish pen surface within a 24-hour time span – was of critical importance during the design process. By extensively drawing on in-house knowledge of subsea equipment design and subsea navigation and positioning, a well-considered mechanical design resulted. The design is backed by a self-positioning control algorithm to ensure the entire pen is covered within the given time limit.
In addition to the pen coverage design criterion, several other key criteria had to be met. Niels Haakman, project manager, comments: "Next to a 100% coverage of the 
fish pen surface, the concept had to have a minimal impact on the operations and design of the offshore fish farm. This meant the system had to come with a minimum footprint, weight, and required installed power.
By relying on simple and effective principles as well as an advanced control system, we were able to keep the design compact and lightweight. Furthermore, the design's burden on the farm's primary operations and setup are kept at a minimum. Which is expressed by – among others – the fact that the collector can run without requiring any operator attention for up to 12 hours on end."
Jan Frumau, Managing Director at Seatools, goes on to remark: "The aquaculture industry's inclination toward increasingly remote and hostile offshore environments begs the development of new technologies characterized by reliability, durability, and solid failure-handling strategies. Moreover, a high level of automation facilitates controlled and efficient operations. These are required when operating at remote locations that incur significantly higher operational costs. Thank to our extensive subsea technology toolbox, multidisciplinary engineering capabilities, and advanced control engineering capabilities, we are able to deliver smart and cost-efficient aquaculture solutions, such as the fish farm cleaning solution for De Maas SMC."
Find out more about this concept on the following page: Remotely Operated Mort Collector – ROMoC
Contact
WOULD YOU LIKE TO DISCUSS YOUR PROJECT WITH OUR EXPERTS?
OTHER CHANNELS
General

+31 (0) 186 68 00 00

Sales

+31 (0) 186 68 00 00
Service (outside office hours, emergency only)

+31 (0)186 65 00 75