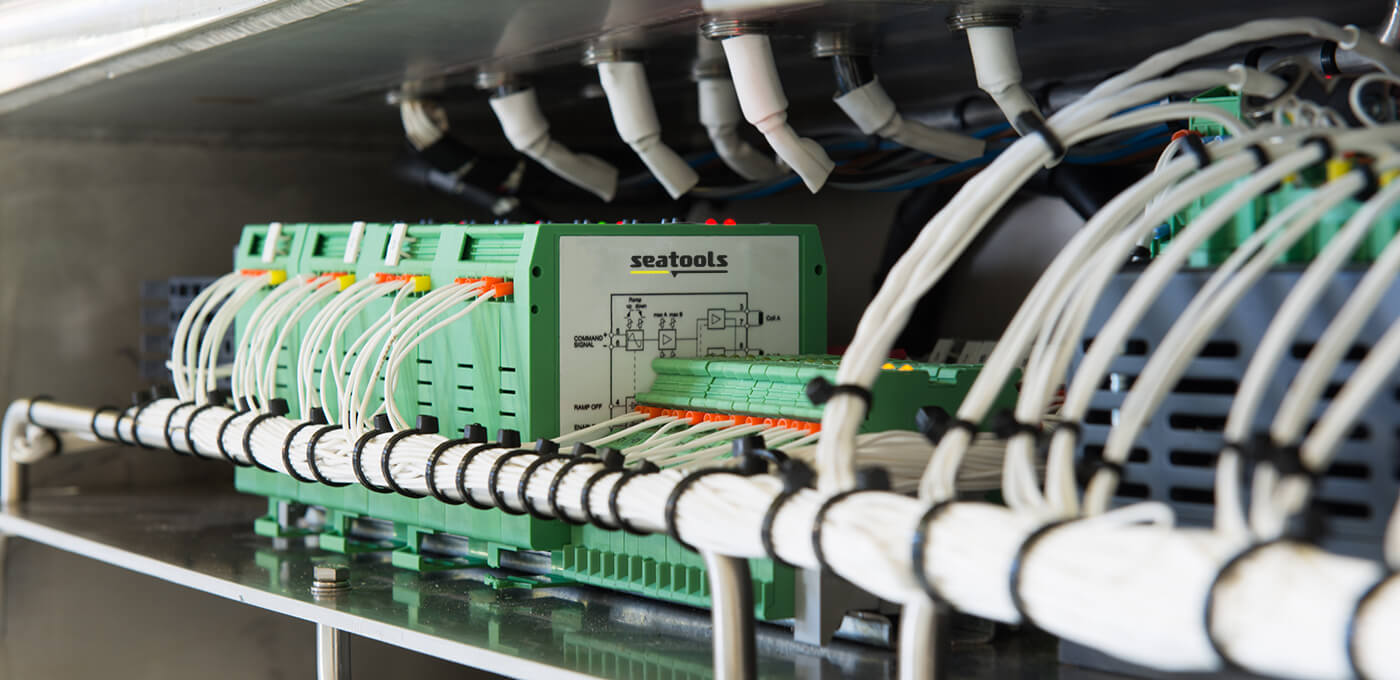 Overview
From individual components to complex custom-engineered subsea electronic systems
Seatools offers a broad range of subsea electric components, systems, and services. Our collection includes a wide array of subsea electric components, such as junction boxes, umbilical terminations, and subsea sensors. For more than 15 years we have successfully applied these components to the subsea vehicles and systems we deliver, some of which operate under the harshest of conditions.
In addition to individual components, Seatools delivers full-fledged electronic systems. Because subsea electronic systems frequently run in tandem with the hydraulic, mechanical, and control segments of a system, at this very crossroads Seatools' multidisciplinary engineering approach offers great value. Properly devising a system requires a capable system integrator with knowledge and experience of all disciplines concerned. Our heave-compensated gangway project is an outstanding example of Seatools' ability to fulfill this role. Facilitated by our advanced simulation capabilities, we successfully integrate all concerned engineering disciplines.
Expertise

Subsea electronic components and modules, including sensors and subsea electronics modules
Rugged housings and electronics suitable for harsh environments (e.g. dredging)
Subsea electronic systems such as drive systems and ROV electronics
Advanced simulations and control of subsea electro-(hydraulic) systems

Value creation

Combination of extensive experience, standardized components, and strong engineering capabilities
Minimal commissioning times thanks to advanced simulations
One-stop shop

Track record

Delivery of numerous (ROV) electronic components and systems
Performed numerous simulations on electro-(hydraulic) systems
Combining our engineering capabilities and extensive experience with the use of our electric components as building blocks, we deliver highly reliable, cost-effective subsea electric systems in short time frames. Want to learn more?
Scope
Electronic components and sub-systems

Monitoring and control systems

Electro-(hydraulic) drive systems

Power and data transmission

Service and upgrades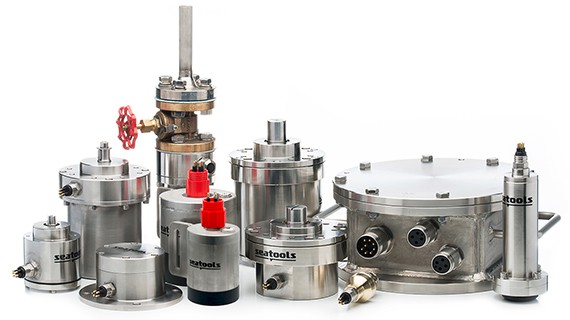 Subsea electronic components and sub-systems
We deliver standardized and custom-made subsea electronic components and sub-systems. Among the variety of underwater electronic components that we offer are subsea sensors, junction boxes, cable joints, subsea housings, and cable terminations. We also supply sub-systems, such as subsea electronic modules. Numerous components and sub-systems developed by Seatools are also deployed in the subsea vehicles we build; many years of experience and field feedback have informed their designs.
Learn more about our subsea electronic components on the following page.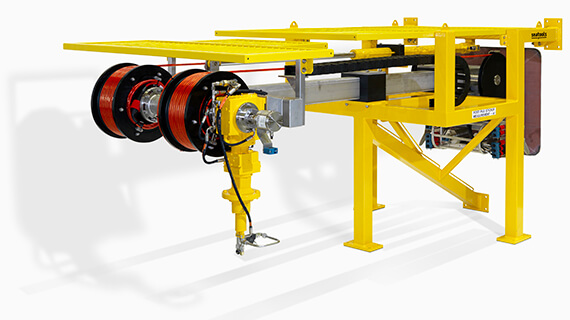 Full insight and control your subsea assets and operations
Seatools is unique in its ability to provide a wide range of customized dredging, offshore, and subsea monitoring and control systems. Thanks to our experience and far-reaching subsea technology toolbox – containing a robust subsea sensor range and subsea measurement technologies like taut wires – we can draw on endless possibilities for the design, development, and construction that results in your custom-made system. As such, we can deliver tailor-made, rugged subsea monitoring and control systems for virtually any application based on proven technology, in short time frames, and in a cost-effective way.
Learn more about our subsea monitoring and control on the following page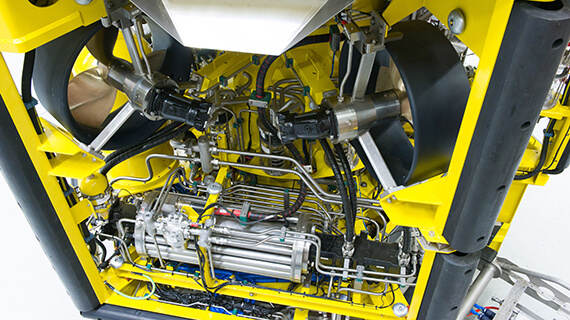 Subsea electro-(hydraulic) drive systems
Seatools harbors vast experience in the design, analysis, and construction of subsea electro-(hydraulic) drive systems. Whether it concerns the propulsion of an electro-hydraulic ROV, or a highly accurate servo drive system for a subsea saw – Seatools is capable of providing highly reliable, custom-made drive systems for any type of subsea equipment. In addition, our advanced simulation capabilities have proven to generate significant value in the design of drive systems, enabling accurate predictions of drive performance under any condition.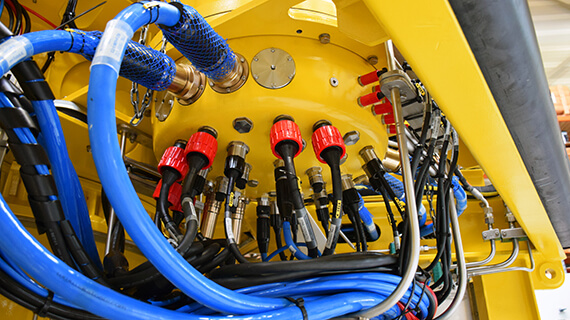 Subsea power and data transmission
Seatools delivers an extensive range of capabilities, components, and systems that are related to subsea power and data transmission. This varies from (in-house or on-site) molding and termination capabilities to custom-made multiplexer and data transmission solutions. Solutions, that feature fiber optic-, acoustic-, and wireless-based technologies. A case in point is the deep-water A&R hook monitoring and control system, which was implemented in an environment that did not allow for power and data transmission cables. Seatools met this challenging requirement by powering the system with a battery-powered subsea HPU, while acoustic modems enabled data communication.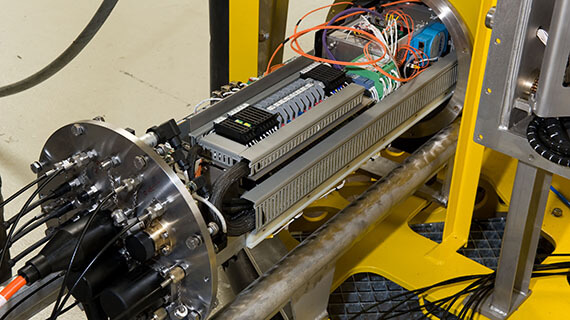 Service and upgrades
Seatools performs service and upgrade activities on self-manufactured and third-party manufactured subsea electro-(hydraulic) systems. For example, multiple upgrades of ROV control systems have been executed to increase their dynamic positioning performance.
How we create value
Combination of extensive experience, standardized components, and strong engineering capabilities

Our value proposition for subsea electric systems combines a range of electric components (e.g. our subsea sensor range) with multidisciplinary engineering capabilities and an extensive in-house experience base in the area of subsea electronics. We have extensive knowledge of the performance and behavior of our standardized components, which function as building blocks of an electric system. Meanwhile our engineering capabilities and experience ensure that all performance criteria are met in an efficient way. A combination rarely found, which results in high-quality, cost-effective, and first-time-right systems that can be delivered within a short period of time.

Pre-optimized electro-hydraulic systems that minimize commissioning times and operational risk

Because we combine electric control system development with advanced simulations, our control systems are delivered with pre-programmed, close-to-optimal controller settings. An offer that has proven to create great value, as it significantly reduces expensive, on-site commissioning times and delivers highly accurate control systems. In addition, failure case simulation enables the development of controllers that guarantee fail-safe behavior, thereby significantly reducing operational risk.

One-stop-shop

Since we do not only have a strong electrical engineering department, but also house the complementary engineering disciplines (such as mechanical, hydraulic, software, and control engineering), clients outsource full-fledged projects to a single supplier. This benefits quality and lead times primarily, but also means that projects are performed far more cost-effectively. Moreover, the burden of additional project management is shifted away from clients.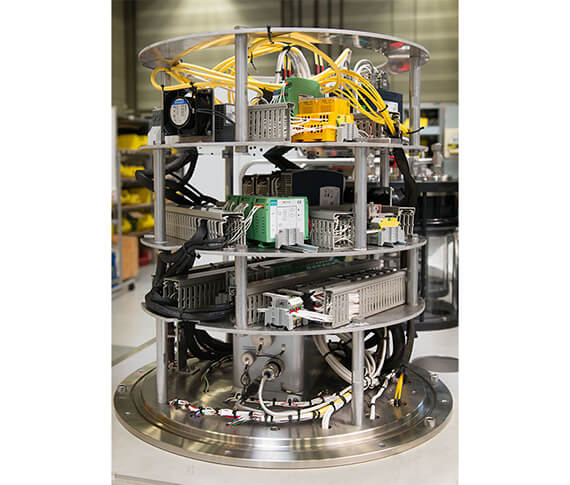 Would you like to discuss your project? Our experts are happy to discuss and advise on potential solutions for your project.
TRACK RECORD
A trustworthy track record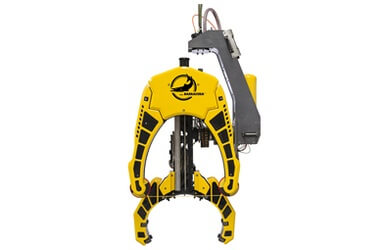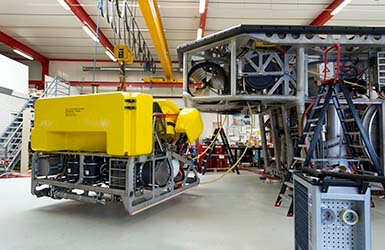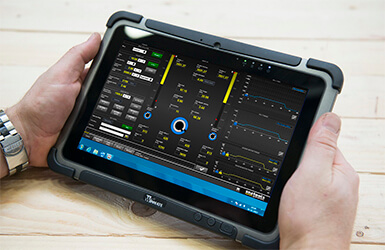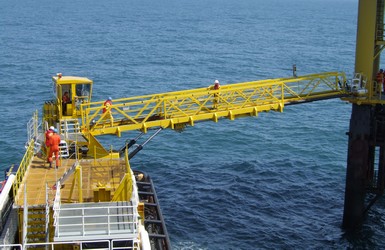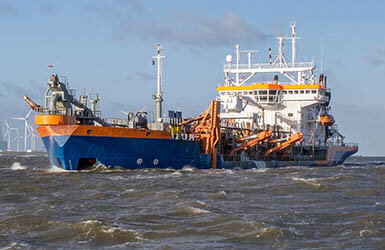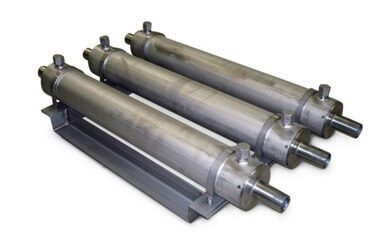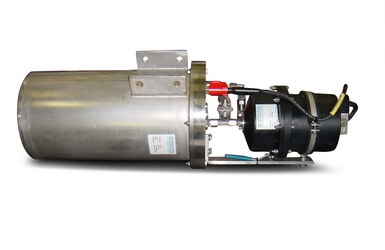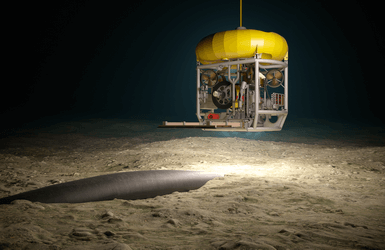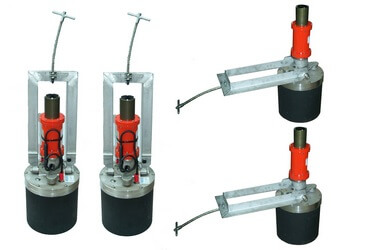 Date:

August 2014

Project duration:

7 months

Client:
Diamond wire saw system featuring advanced subsea servo drive system
The Barracuda is a response tool that was designed specifically for subsea cutting in emergency situations. Because material type is unknown in some cases, having feedback and full control over the cutting process was deemed imperative in the development of the tool.
In order to facilitate feedback and control, a highly accurate subsea servo drive system was developed. This drive system enables monitoring and controlling the diamond wire velocity and wire tension to extreme accuracies.
Date:

December 2011

Project duration:

11 months

Client:
ROV electronics and tether management system for revolutionary integrated survey ROV technology
The Rockpiper is a highly automated fall pipe ROV that features an integrated survey ROV. The survey ROV features full DP functionalities, and can dock and undock fully automatically in order to perform direct post surveys, resulting in major cost savings.
In addition to the development of dual electro-hydraulic drive systems and a complex ROV electronic control system, determination of the survey ROV's position required the development of highly specific, integrated sensors. These sensors were designed in order to determine the angles and tension in the umbilical toward the survey ROV.
Date:

December 2016

Project duration:

4 months

Client:

Undisclosed
Pile driver control system
In order to validate theoretical models of a new pile installation method, a small-scale rotating pile installation system had to be developed. For this machine, Seatools supplied the drives, motors, and control system that operate the spindles and rotate the pile.
In the development of the system, key was the ability to accurately control the penetration and rotation velocity of the pile, and accurately monitor the forces and torques exerted on the pile. In order to achieve this, Seatools developed a highly accurate drive system that incorporates both highly accurate servo motors and frequency-controlled AC motors.
Date:

March 2005

Project duration:

9 months

Client:
Electric and control system for the first heave-compensated gangway in the industry
In 2005, Offshore Solutions introduced the Offshore Access System (OAS): a heave-compensated gangway that facilitates the safe transfer of offshore personnel from and to offshore structures.
Seatools delivered the entire control system for the OAS (hardware and software). A significant part of the system's design was a detailed simulation of the system, which included simulations of electric motors, sensors, and actuator behavior.

LEARN MORE
Dredging instrumentation and visualization systems
Seatools offers a wide range of real-time monitoring and control systems. Our systems provide complete insight in and control of the dredging equipment and process. In addition to our highly successful standardized DredgeMate® systems, our outstanding engineering capabilities facilitate the development and delivery of custom-made dredging monitoring and controls. Our robust electronics are characterized by their ability to withstand the harshest of dredging conditions, such as vibrations and shock loads.
Private: Durable cable joints for demanding subsea applications
Seatools has designed and delivered various types of medium voltage subsea cable joints for creating strong and durable subsea cable connections. These cable joints can reconnect both power and fiber optic cables.
Due to the well-considered mechanical construction the cable joint does not reduce cable strength and also preserves system reliability. The installation process is practical and straightforward and our field kits are delivered including all required installation tools, consumables and instructions.
Date:

Oktober 2005

Project duration:

3 months

Client:
Battery-powered subsea HPU for autonomous monitoring and control system
In order to monitor the twist, tension, and torsion in cables connected to abandonment and recovery hooks, as well as to control the opening and closing of hooks, Allseas asked Seatools to develop an autonomous monitoring and control system.
The monitoring system runs on a battery-powered subsea HPU. One particular challenge was to analyze and model the power demand behavior of all system components under any circumstance, and select the proper battery capacity.
Date:

August 2002

Project duration:

18 months

Client:
Advanced ROV subsea power supply and ROV electronics for multipurpose inspection ROV
The ROHP II is a multipurpose inspection ROV designed for inspection, sampling, survey, and light intervention tasks in waters with strong currents and poor visibility, such as the North Sea.
Because the ROV should be able to perform a wide variety of tasks, Seatools developed two different modes: the hanging mode and the free-flying mode. Our dual-mode approach required a unique ROV power supply system and ROV electronic system.
Date:

December 2004

Project duration:

6 months

Client:
Extremely accurate monitoring system for effective offshore tower leveling
The installation of two offshore compliant towers in a water depth of 400 meters required a level measurement system for the accurate measurement and leveling of the tower legs within a maximum allowed height difference of 12 mm.
Seatools designed, built, and operated a system that achieved a measurement accuracy of less than 3 mm. The solution consisted of hardware measurement pods, data transmission and processing software, and measurement procedures.
Multimedia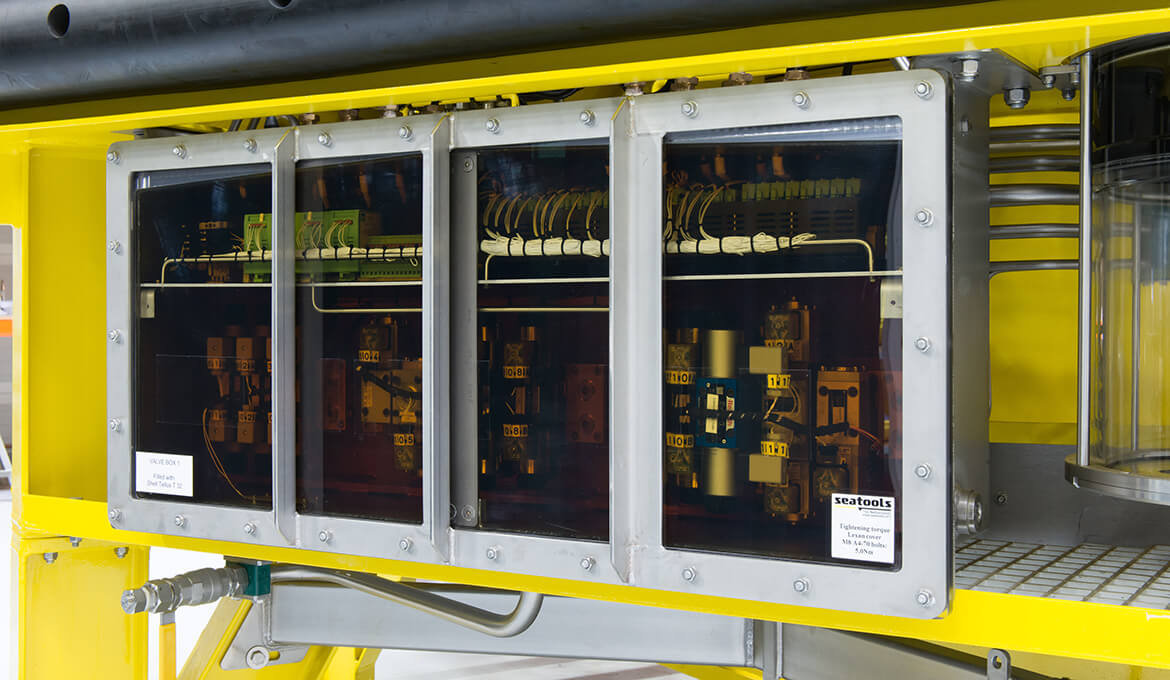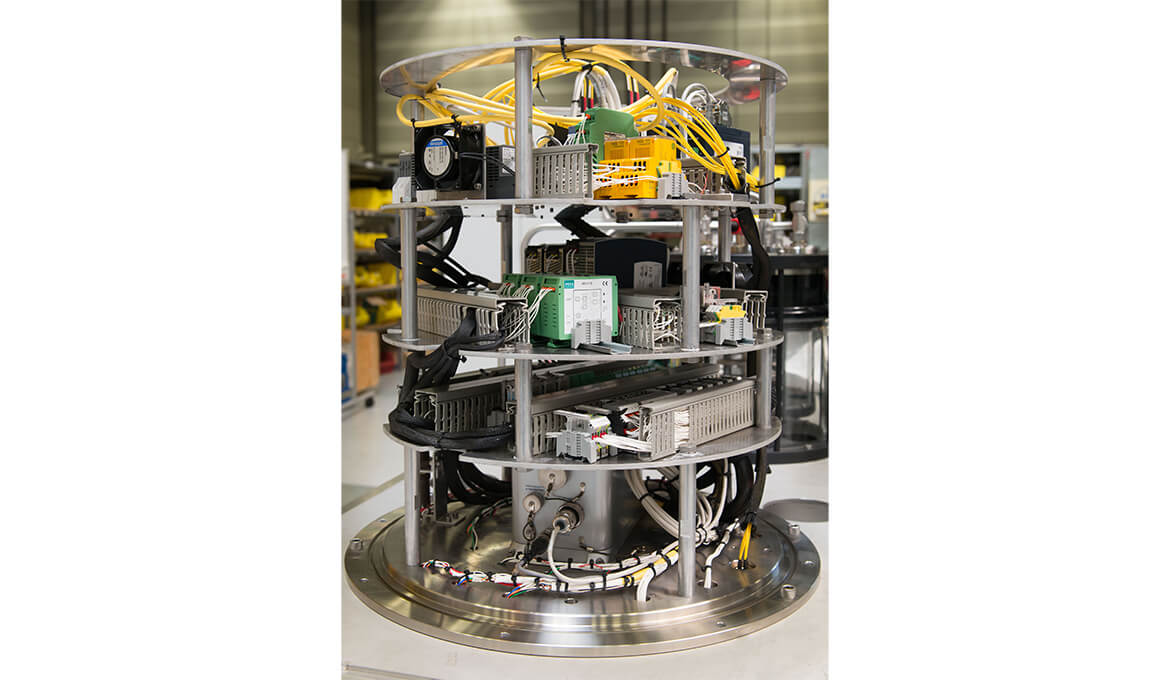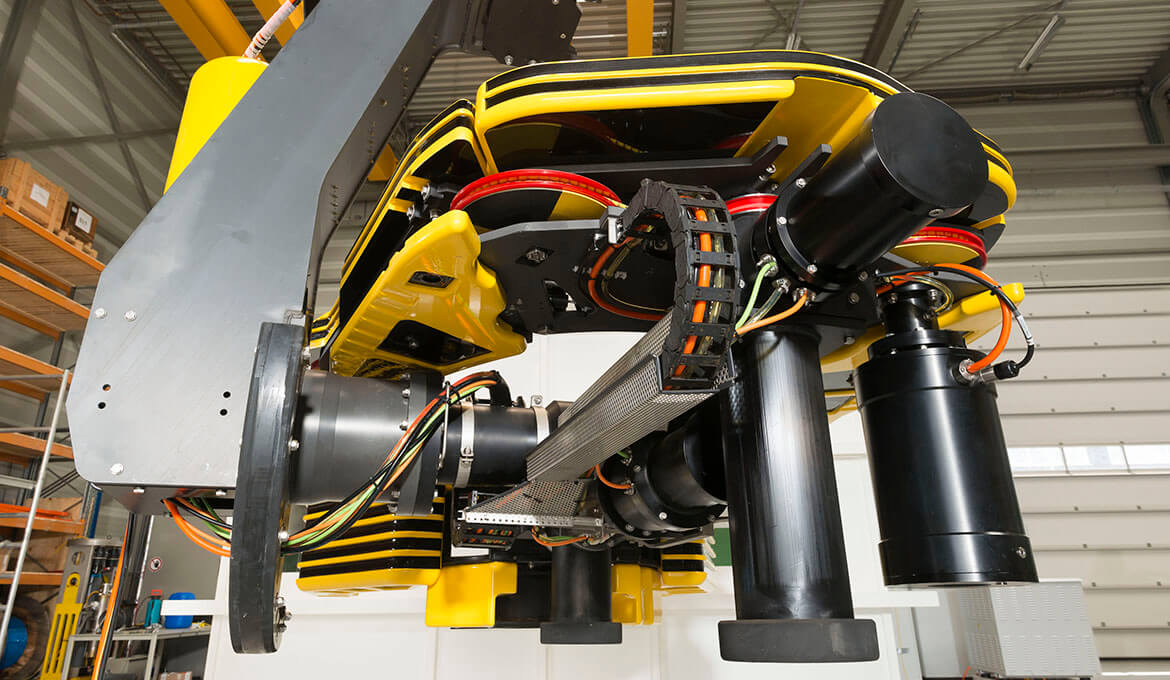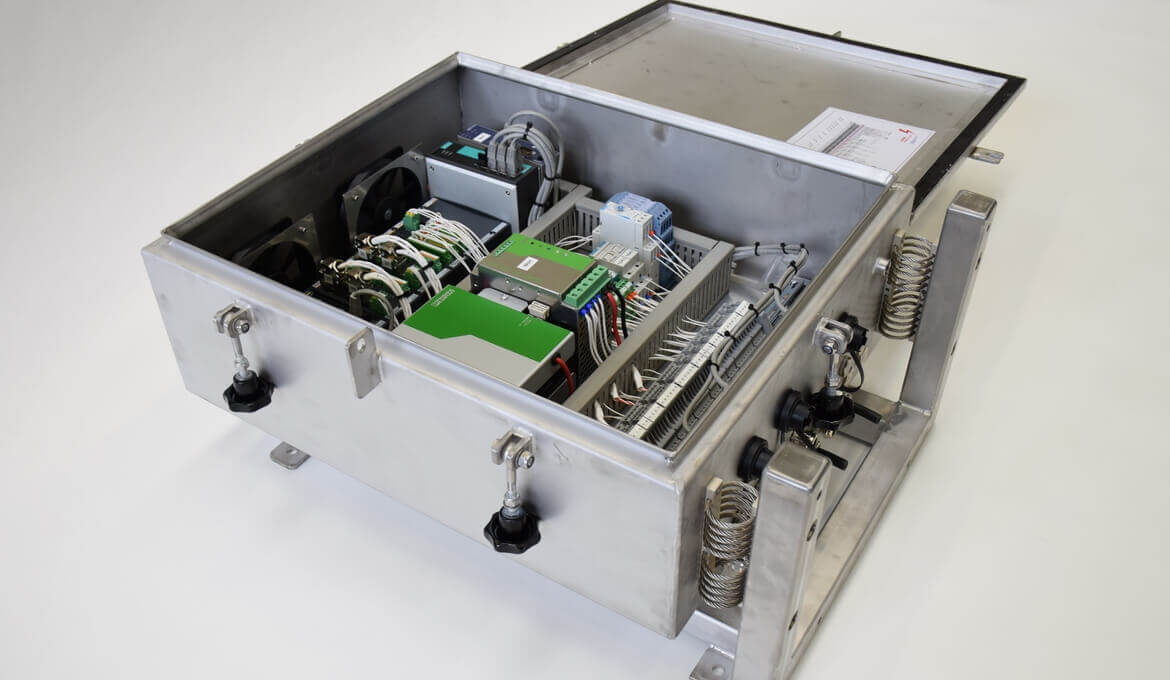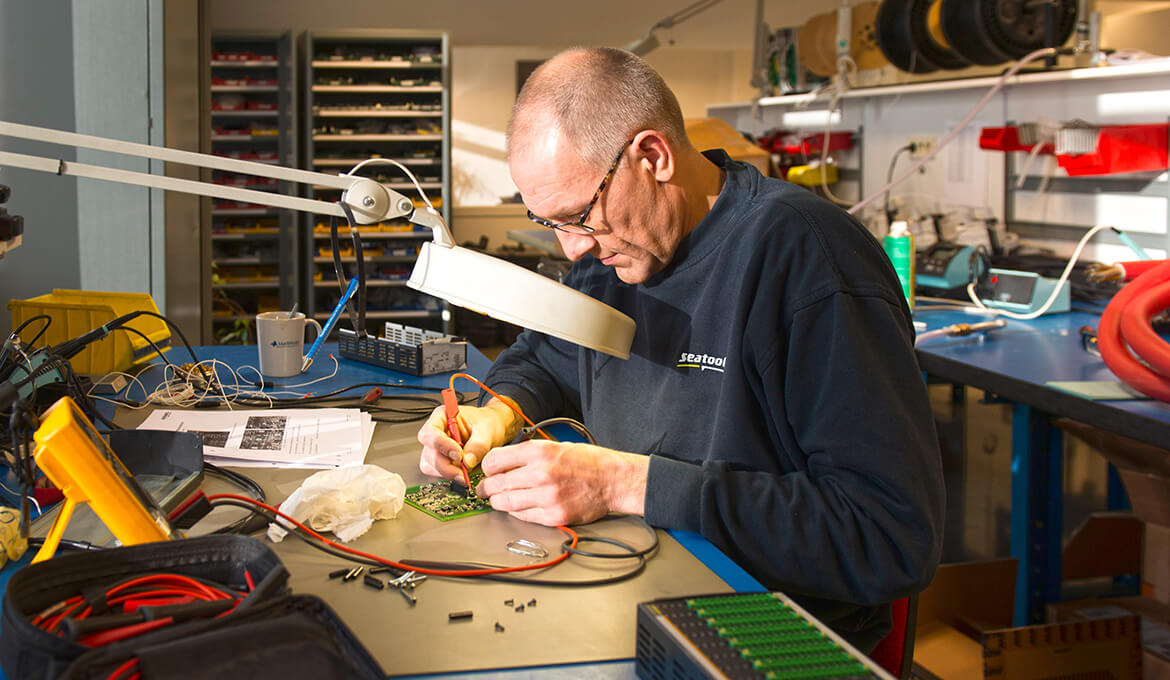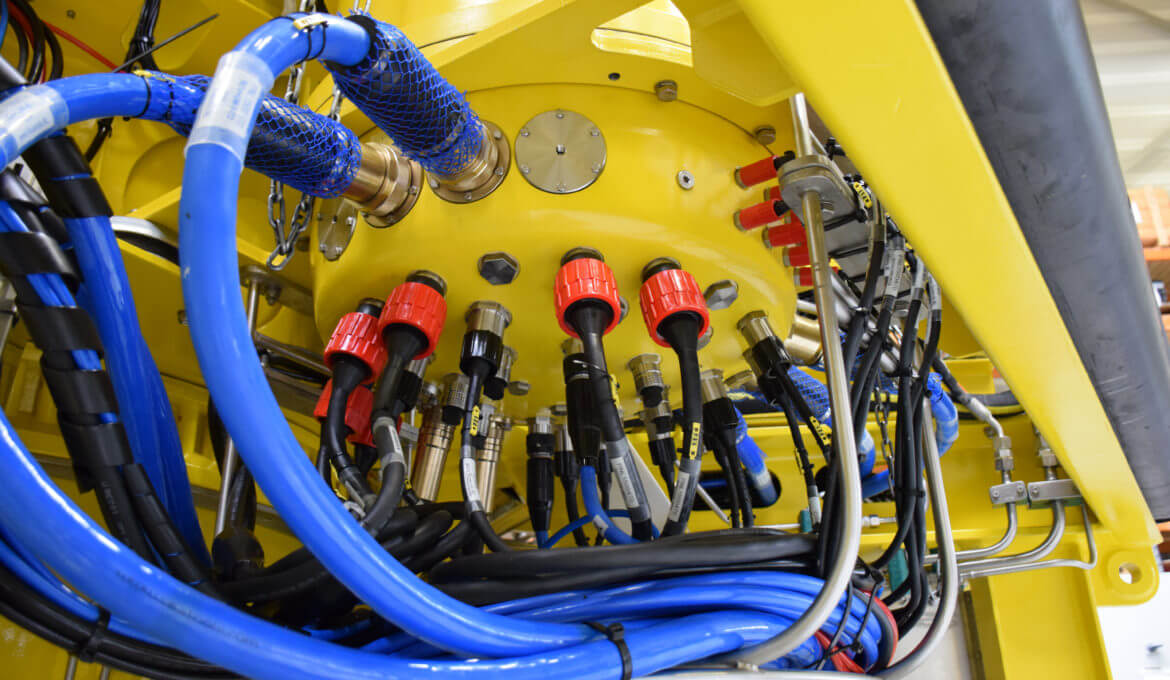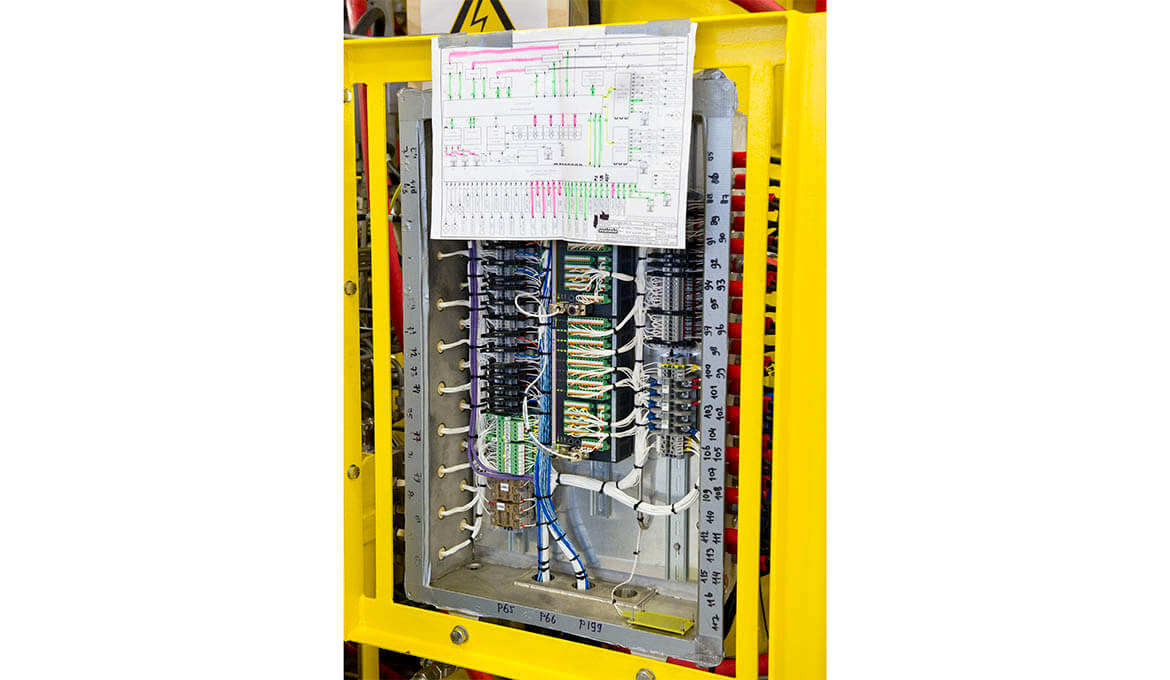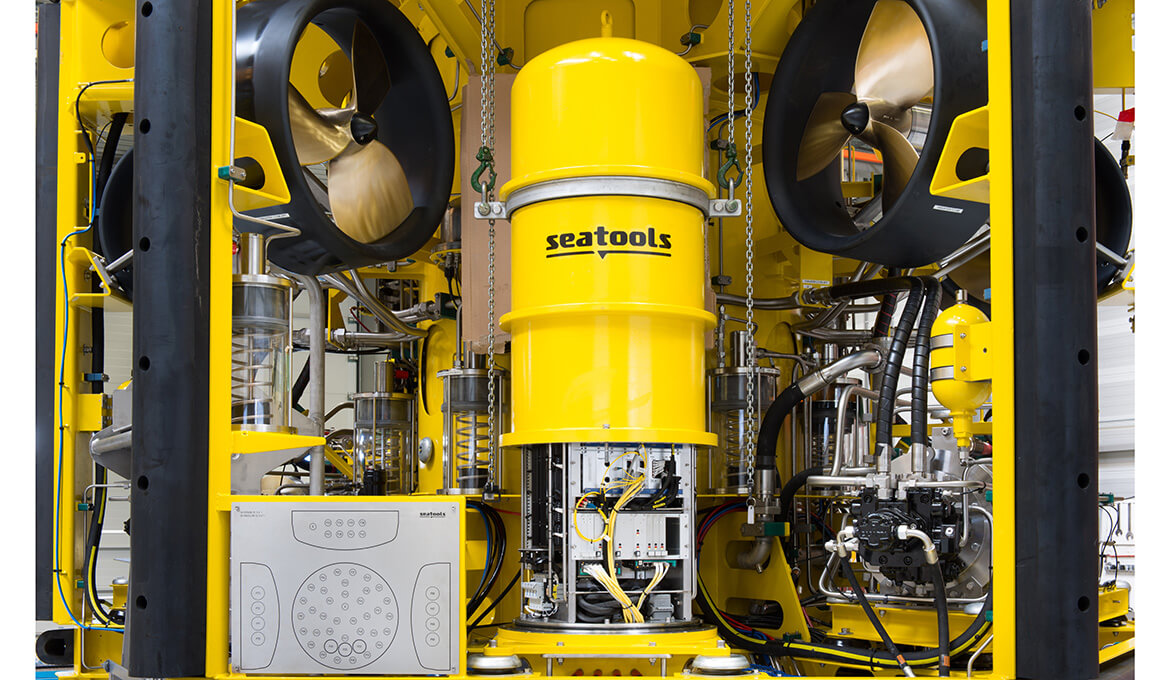 Contact
WOULD YOU LIKE TO DISCUSS YOUR PROJECT WITH OUR EXPERTS?
OTHER CHANNELS
General

+31 (0) 186 68 00 00

Sales

+31 (0) 186 68 00 00
Service (outside office hours, emergency only)

+31 (0)186 65 00 75