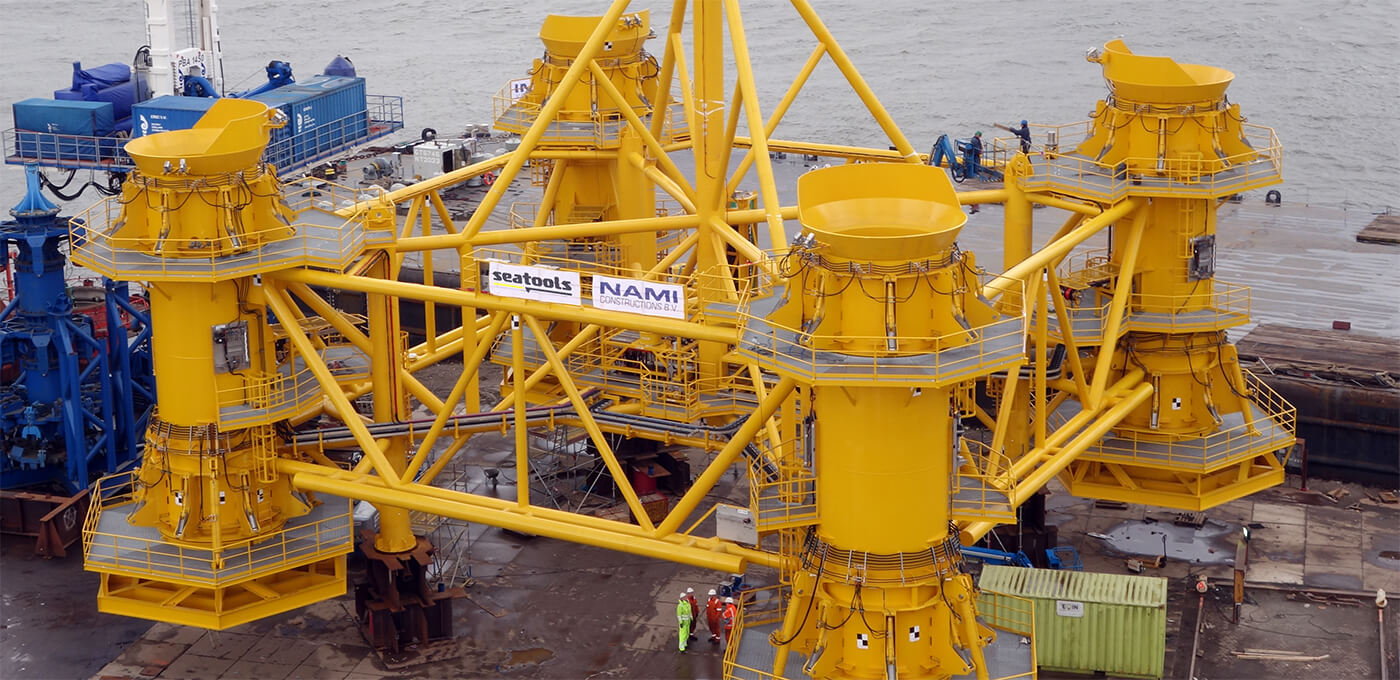 Overview
Simulations, monitoring & controls, and equipment for predictable, controlled, and effective offshore and subsea installation operations
The installation of subsea and offshore assets, such as jackets or wind turbine foundations, are extremely capital-intensive operations. Interruptions, or even loss of operational control, are very costly and can create hazardous situations. To keep full control over an installation operation, it is key to incorporate the right installation tools and monitoring & control systems, over and above careful (virtual) operational planning. Seatools has a strong track record in the field of smart installation tools and systems. Our tools and systems provide full insight in and control over the installation procedure. Whether during the project planning stage by means of simulations, or during the operational stage through monitoring & control systems or installation tools: our offerings aim for predicable and controlled installation operations.
Expertise

Subsea measurement techniques (subsea metrology)
Rugged (subsea) instrumentation
Advanced control systems, including subsea (dynamic) positioning
Heave and motion compensation
Offshore and subsea installation simulations

Value creation

Predictable operations thanks to simulations
Reliable operations thanks to rugged systems
Save operating time thanks to high accuracy levels and first-time-right

Track record

14 successfully completed installation-related projects
Systems for effective offshore pile driving
Systems for controlled cable and pipeline installation
Systems for the marine civil, offshore renewables, and offshore oil & gas
Seatools enabled Boskalis to install sewer pipes in currents of up to 4 knots at an accuracy level of 1 centimeter. This high accuracy level resulted in smooth operations, and saved valuable operating time.
SCOPE
Feasibility, FMEA, and concept studies

Offshore and subsea installation simulations

Offshore and subsea installation monitoring & controls

Offshore and subsea installation tools and equipment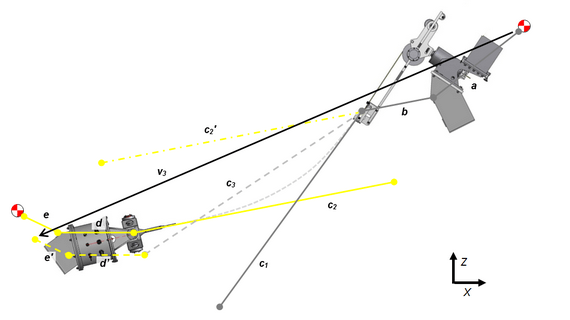 You provide the case and requirements, we seek out a solution
Seatools is experienced in the analysis and development of offshore installation tools and systems. Thanks to the studies we conduct, we ensure the appropriate equipment is selected or developed for a specific installation assignment. If monitoring & control instrumentation is concerned, our studies take into account a wide array of factors. This includes the required functionalities and accuracies, noise, currents, vibrations, back-up and redundancy strategies, data and power transmission, handling and installation, available development time, and interfacing. During this stage, we may apply our simulation capabilities in order to investigate feasibility or performance. The deliverable often concerns a system conceptual design that includes a detailed technical and operational description of the system.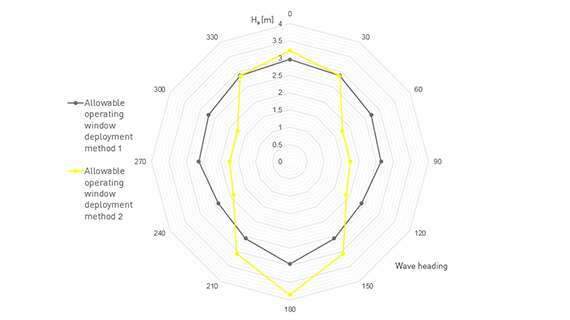 Offshore and subsea installation simulations
Seatools is capable of performing simulations of the critical parts of an offshore installation operation. Given a particular vessel motion spectrum, for example, we can perform simulations of seabed interaction effects during asset touchdown, including related behavior of the hoisting arrangement. By performing these types of simulations, dangerous situations like slack wires can be identified at an early stage, facilitating the determination of an allowable operating window. Together with our trusted business partners, furthermore, we provide interactive, real-time simulators and visualizations that facilitate the validation of procedures and operator training.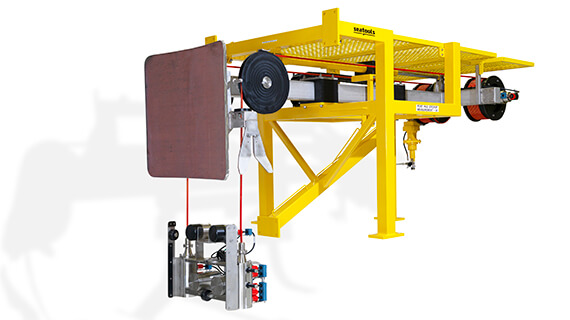 Gain real-time insights in and control over your offshore installation operations
Seatools' installation monitoring & control systems provide real-time insights in and control over your installation operations. Thanks to our expertise in subsea measurement and positioning, control engineering, and Human Machine Interface (HMI) design, we ensure your offshore assets are installed in the right position and orientation. Not only can we monitor positional data, we can measure virtually any other relevant offshore installation-related physical quantity.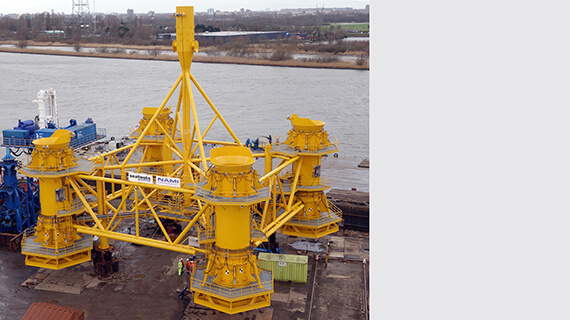 Innovative tools and equipment for critical installation operations
In addition to providing equipment to monitor and control the installation process, Seatools also provides the tools and installation equipment itself. Our core competence – the development and manufacturing of subsea equipment – results in the delivery of high-quality, tailor-made offshore and subsea installation equipment. Our experience with subsea remote vehicle technology, for example, in combination with our creative design skills, yields installation tools and equipment that allow for uninterrupted installation procedures. We deliver turn-key equipment, along with operator training programs.
HOW WE CREATE VALUE
Keeping control under the severest of conditions

Because of our background in the design and manufacturing of dredging monitoring systems that get subjected to extremely harsh operating conditions such as strong vibrations, Seatools acquired extensive expertise on the design and manufacturing of rugged offshore equipment. The Pyrodriver monitoring & control instrumentation is a case in point. This alternative pile driving system is based on the use of explosives, meaning the instrumentation has been successfully subjected to extreme shock loads.

Efficient operations thanks to high accuracy levels

In some cases, a high measurement accuracy can generate considerable value. The HighWire taut wire system, for example, achieved an accuracy level of 1 centimeter. This extremely high accuracy level allowed Boskalis to make male-female connections as quickly and as smoothly as possible, which helped save valuable operating time. By means of incorporating our own sensor range, simulations, and advanced algorithms, we enable highly accurate subsea metrology. Our sensors, simulations, and algorithms correct for measurements errors induced by currents and waves, temperature, and density differences.

Flexibility and short lead times, yet first-time-right delivery

We understand that installations and use of instrumentation are part of a bigger operation and have to fit in a larger plan. Furthermore, time for the design and manufacturing of the monitoring & control system is limited in certain cases. This requires flexibility and short lead times. Our organization is set up and our culture was developed in such a way that these stringent requirements can be met. In addition, not only are our equipment solutions delivered within a short time frame, our engineering principles also guarantee first-time-right delivery. We perform extensive functional testing in a representative configuration in order to ensure proper performance upon delivery.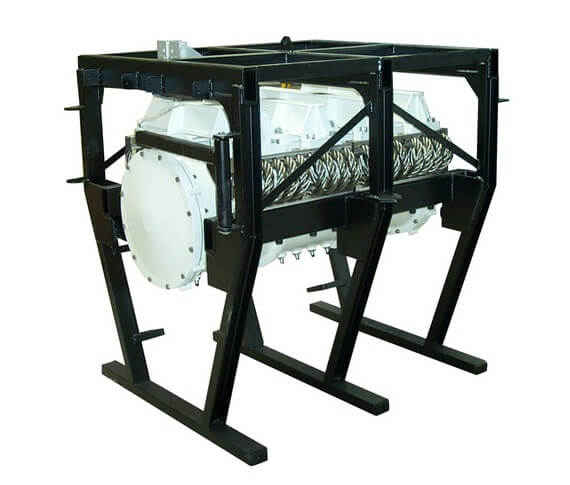 RELATED CONCEPTS
We believe these concepts will improve your offshore and subsea installation operations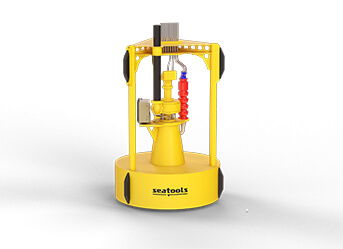 How can we help you achieve predictable, controlled, and effective offshore or subsea installation operations? Our experts gladly discuss and advise on potential solutions for your project.
Standardized installation tools and systems
Field-proven tools and measurement systems
HighWire – Taut wire position reference system

Template leveling system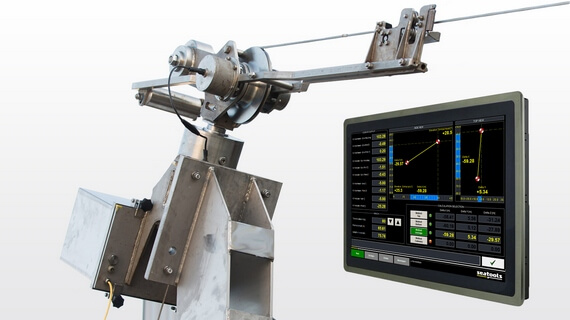 Accurate positional data under harsh conditions
The HighWire is a robust taut wire system for offshore and submerged operations. The system can be applied in operations that require accurate and real-time positional data of submerged objects, such as during pile driving, mudmat or caisson installation, spool piece installation, and marine civil engineering projects.
Key features:
• Unprecedented measurement accuracy
• Operable in any environment: above surface, subsea, splash zone, or mixed
• Unaffected by noise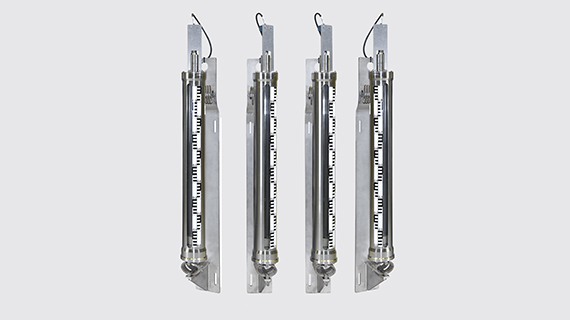 Reduce costly pile driving interruptions
This subsea template leveling system facilitates significant offshore time savings thanks to real-time monitoring of template inclinations. Leveling of subsea templates used to be a time-consuming activity, generally performed by a diver or inspection ROV reading the individual levels at the sensors on a template's various corners.
Thanks to the introduction of the template leveling system, this approach has now become obsolete. The fully shockproof system provides real-time measurement of the template's height differences at a remote read-out unit. In practice, this solution has proven to be effective, reliable, and accurate.
Our real-time template leveling system saved Seaway Heavy Lifting significant amounts of time by reducing the time required to perform level measurements. How can we improve your operations?
TRACK RECORD
A selection of the offshore and subsea installation challenges we solved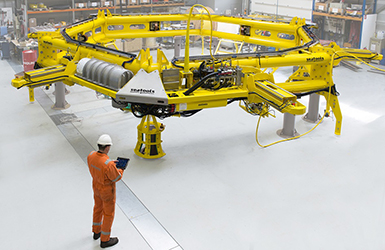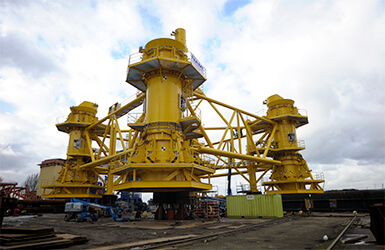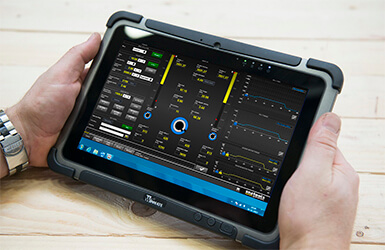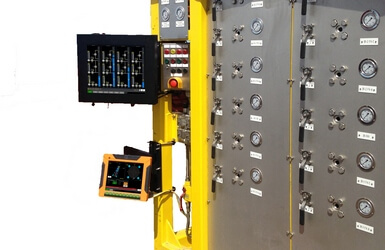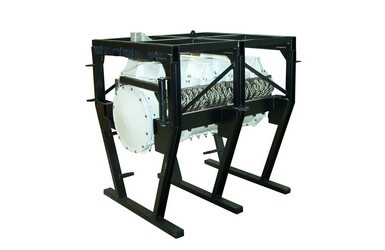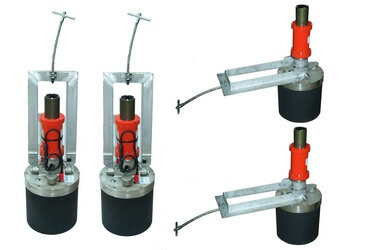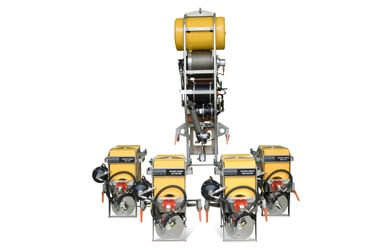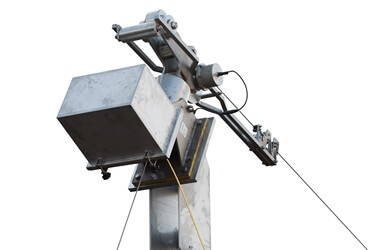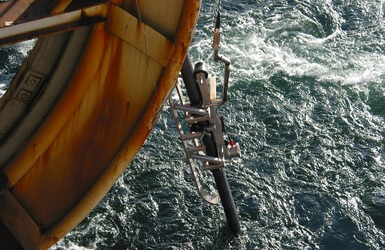 Date:

February 2018

Project duration:

7 months
Innovative tool for efficient anode cage installation
The installation of the anode cages constitutes an important element during the construction of the Hohe See OWF. For this crucial part of the operation, GeoSea contracted Seatools for the design and delivery of an anode cage installation tool.
This tool facilitates highly automated installation operations and allows GeoSea to achieve significant time savings – a critical parameter when performing capital-intensive offshore installation operations. A comprehensive set of sensors enables the monitoring of the installation procedure every step of the way, and contributes to a fully autonomous operation, obviating the need for ROVs or divers. The delivered solution proves to be highly successful: GeoSea performs cost-effective installation operations thanks to the ACIA tool.
Date:

March 2017

Project duration:

5 months
Innovative piling template for efficient offshore piling operations
In order to have full insight and control during the offshore piling operations that were part of the construction of a large OWF, Seaway Heavy Lifting contracted Seatools for the design and delivery of a piling template instrumentation and control system.
The contract included the complete mechanical, electric, hydraulic, and software design of the pile template instrumentation and control system. The delivered solution proved very successful: a highly reliable piling template allowed Seaway Heavy Lifting to perform efficient and controlled piling operations.
Date:

December 2016

Project duration:

4 months

Client:

Undisclosed
Pile driver control system
In order to validate theoretical models of a new pile installation method, a small-scale rotating pile installation system had to be developed. For this machine, Seatools supplied the drives, motors, and control system that operate the spindles and rotate the pile.
In the development of the system, key was the ability to accurately control the penetration and rotation velocity of the pile, and accurately monitor the forces and torques exerted on the pile. In order to achieve this, Seatools developed a highly accurate drive system that incorporates both highly accurate servo motors and frequency-controlled AC motors.
Date:

February 2015

Project duration:

3 months

Client:
Real-time insight into the jacket-upending process
Statoil awarded Heerema Fabrication Group with the engineering and construction of the Gina Krog jacket. For this jacket structure, Statoil demanded a monitoring system to closely monitor and control the jacket ballasting and upending process.
Seatools designed and delivered a jacket-upending monitoring system. The system provides real-time insight into the ballast system status and the upending process in terms of jacket structure inclination in multiple planes.
Date:

January 2003

Project duration:

6 months

Client:
Shock load-proof piling hammer instrumentation and control system
For the control of an experimental explosion-driven piling hammer, IHC Hydrohammer required a control system capable of withstanding extreme shock loads. In addition, remote control of the system was a prerequisite.
Seatools developed a shock load-proof instrumentation system. The system is battery powered, is capable of high specification data acquisition, and features fail-safe electronics to control the explosives.
Date:

December 2004

Project duration:

6 months

Client:
Extremely accurate measurement system for effective offshore tower leveling
The installation of two offshore compliant towers in a water depth of 400 meters required a level measurement system for the accurate measurement and leveling of the tower legs within a maximum allowed height difference of 12 mm.
Seatools designed, built, and operated a system that achieved a measurement accuracy of less than 3 mm. The solution consisted of hardware measurement pods, data transmission and processing software, and measurement procedures.
Date:

September 2007

Project duration:

9 months

Client:
Effective positioning of submerged tunnel segments thanks to high measurement accuracy
For the construction of the Busan-Geoje tunnel, Strukton was awarded the construction, immersion, and accurate positioning of tunnel segments. The crucial importance of the accurate subsea positioning of tunnel segments required the development of a Tunnel Segment Measurement System (TSMS).
The TSMS is a compact and light-weight subsea measurement system, based on a combination of taut wire technology and accurate distance sensor technology.
Date:

March 2009

Project duration:

4 months

Client:
Effective installation of sewage outfall pipes enabled by extreme measurement accuracies
In 2004, the HighWire was delivered for a project that required Boskalis to install sewage outfall pipes at water depths of 50 meters, in currents of up to 4 knots. In this setting, the HighWire® system realized an extremely high accuracy level of 1 centimeter and enabled our client to make male/female connections as quickly and smoothly as possible, and save valuable operating time.
Date:

-

Project duration:

-

Client:

Various
Monitoring, controls, and parts for controlled and accurate subsea cable and pipeline installation
Seatools delivered numerous systems and equipment for subsea cable and pipeline installation operations, including (autonomous) touchdown and departure angle monitors, A&R hook instrumentation, subsea power cable joints, and multiplexer systems. Our monitoring systems facilitate full control over an operation, and accurately register cable or pipeline positioning.
To learn more, please visit our dedicated subsea cable and pipeline installation page.
RELATED NEWS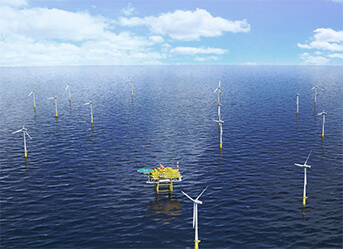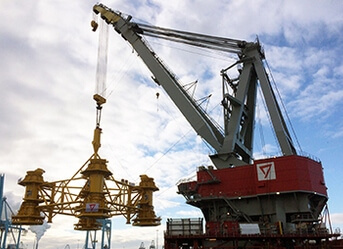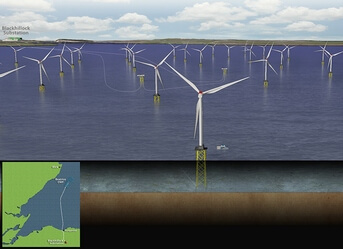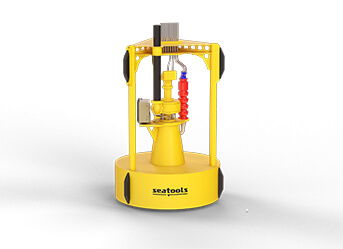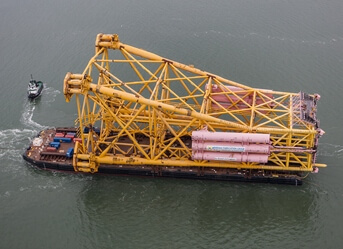 CONTACT US
Would you like to discuss your project with our experts?
OTHER CHANNELS
General

+31 (0) 186 68 00 00

Sales

+31 (0) 186 68 00 00
Service (outside office hours, emergency only)

+31 (0)186 65 00 75