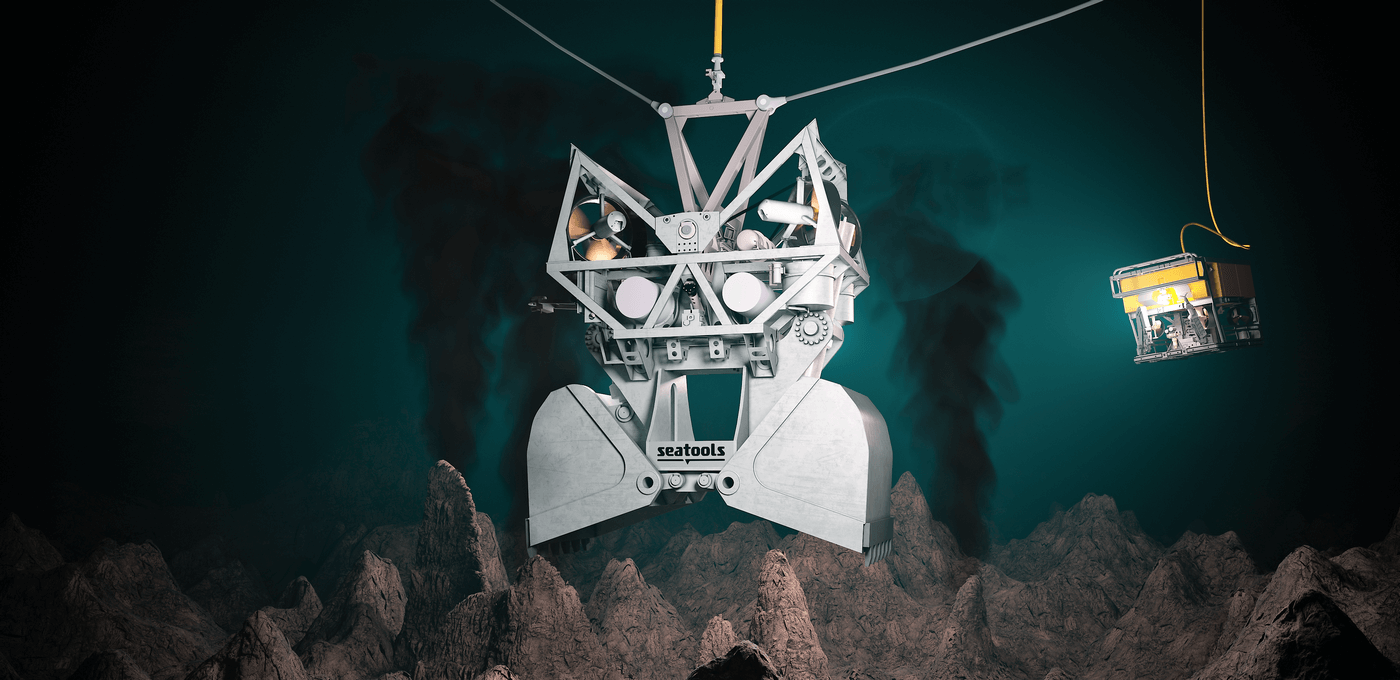 Overview
Innovative bespoke excavation solutions with a high degree of control over the excavation operation
With a track record of pioneering devices such as the Carrera 4 subsea excavator, GES, Arthropod, and Jetting Bull, Seatools established itself as a manufacturer of highly sophisticated and innovate subsea excavation and dredging tools. A common denominator in our sophisticated seabed excavation tools is the great value they offer to our customers: sometimes because of an enabling technology, such as in the case of the GES, while at other times because of a significant reduction of an operation's total cost, such as in the case of the Carrera 4. The unique combination of our creativity, advanced control engineering capabilities, and in-depth dredging expertise, results in value-creating subsea excavation solutions that provide our customers with a competitive edge.
Expertise

Advanced control systems for dredging and excavation (including haptics)
Hydraulic and mechanical dredging technology
Subsea mining

Value creation

Innovative, fit-for-purpose, equipment solutions
Highly automated excavation operations: full control and operation optimization
Short lead times and first-time-right delivery

Track record

Hydraulically based equipment such as mass flow excavators and jetting trenchers
Mechanically based equipment such as cutter trenchers, rock trenchers, and grabs
Diver-operated, ROV-operated, and remote vehicle excavation solutions
The GES enabled Boskalis and Tideway to excavate at a water depth of 150 meters with production rates of 150 m3/hour in 750 kPa stiff clay at an accuracy level of 20 centimeters. How can we empower you?
SCOPE
Feasibility, FMEA studies, and conceptual design

Bespoke turn-key excavation equipment

Maintenance, repair, and upgrades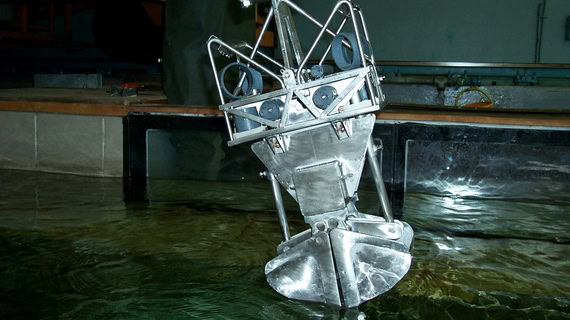 You provide the case and requirements, we seek out a solution
Seatools is capable of and experienced in the performance of studies that analyze and develop subsea excavation technologies. The studies we conduct help ensure the appropriate equipment is selected or developed for a particular assignment. During a study, we take into consideration factors such as the required (economically feasible) production rates, deployment methodology, required dredging accuracy, soil conditions (e.g. stiffness, homogeneity, or presence of boulders), allowable turbidity, currents, and CAPEX/OPEX behavior of potential solutions. Studies can also include laboratory testing, such as performed during the GES project.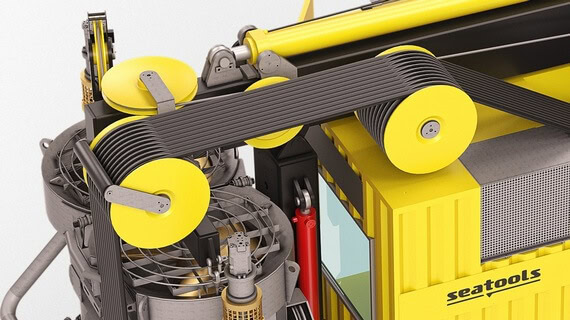 Innovative equipment solutions, tailored for your job
Seatools has an extensive track record in the development and delivery of innovative, turn-key underwater excavation equipment. Our knowledge of subsea equipment designs, dredging technologies, and control engineering, in combination with our creativity, leads to the development of highly effective, custom-made dredging tools. Upon delivery, our equipment is ready for use, and includes operator training programs.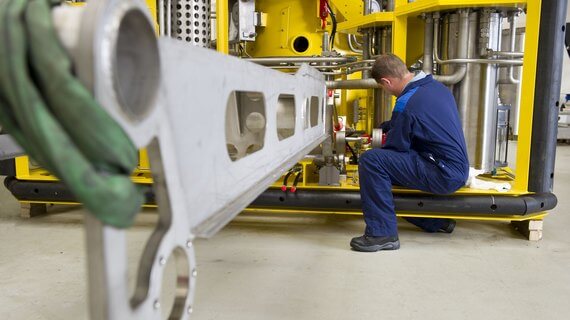 Extend the performance and applicability of your existing subsea excavation equipment
Seatools performs maintenance, repair, and upgrade activities on self-manufactured as well as on third-party seabed excavation equipment. Seatools performed multiple upgrading projects that enabled clients to perform seabed intervention projects with equipment that had originally been designed for significantly different purposes.
HOW WE CREATE VALUE
Innovative, fit-for-purpose equipment solutions

We deliver innovative, fit-for-purpose solutions that significantly improve the economies of our customers' operations. We achieve this by – for example – taking operational aspects into account, such as required deck space. The Carrera 4 subsea excavator, for instance, covered only 46% of deck space compared to competing equipment, which produced significant indirect operational cost reductions.

Highly automated excavation operations

Thanks to our strong control engineering capabilities, we develop underwater excavation equipment that yields a high degree of automation. This gives our clients full control over the dredging process, while achieving optimal production rates and dredging accuracy. The GES is a case in point: the operator only has to enter the coordinates, after which the grab fully automatically takes the next bite at the desired location.

Short lead times in conjunction with first-time-right delivery

Our organisation is set up in such a way that projects can be executed within a short time frame. The total lead time for the custom-made Arthropod trencher, for example, was as little as seven months: from scratch to FAT. Not only can we deliver equipment solutions within a short time frame, our engineering principles also ensure first-time-right delivery.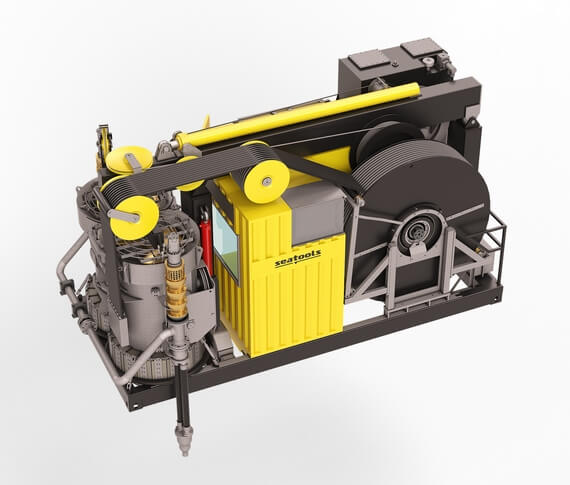 Would you like to discuss your project with our experts? We gladly review your project and exchange ideas in a way that takes your project forward.
Standardized excavation equipment
Subsea excavators and dredging tools
Carrera E – Precision flow excavator

Carrera 4 – Mass flow excavator

Carrera D – Diver dredge tool

PDT – Pile Dredge Tool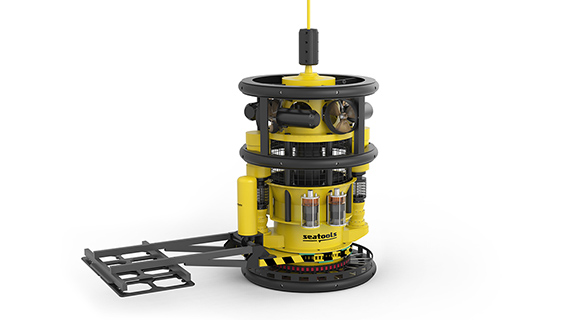 3D motion-controlled precision flow excavation spread
630+ kW, all-electric deep-water excavator featuring Seatools' advanced ROV DP technology. and sets the stage for unprecedented levels of accuracy, production, and workability. The patent-pending spread features 3D motion control, which enables precision excavation operations at a minimum of seabed disturbance.
Key features:
• Precision excavation
• Unprecedented workability
• Lowest total operational costs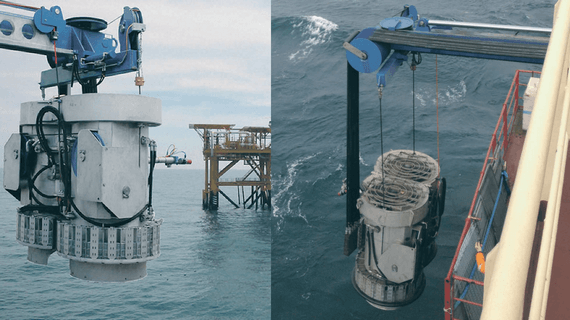 Multi-purpose mass flow excavator
The Carrera 4 is a multipurpose mass flow excavator, an excellent choice for trenching and excavation operations. Thanks to its dual mode capability, the tool performs across a wide range of soils. Another unique feature is its plug-and-play design: the dedicated LARS enables for fast mobilization and deployment.
Key features:
• Broad applicability: multiple soil capability and adjustable trench width
• Compact design
• Plug-and-play design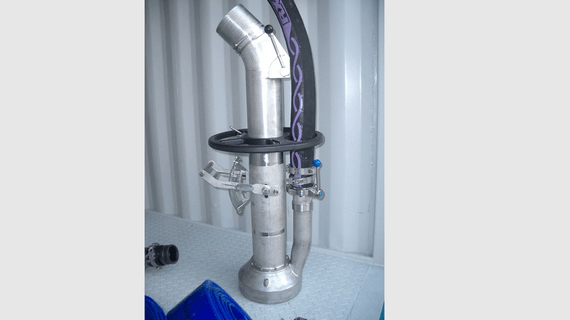 High-performance diver dredge tool
A diver-operated dredge tool that surpasses conventional "air lift" systems (both in performance and operational range) by delivering equal performance across a variety of depths, including shallow waters. The diver can adjust the tool to match local soil conditions, prioritizing either high eductor flow or high nozzle pressure.
Key features:
• Superior production rates
• Dredging performance unaffected by water depth
• Match local soil conditions through easy flow adjustment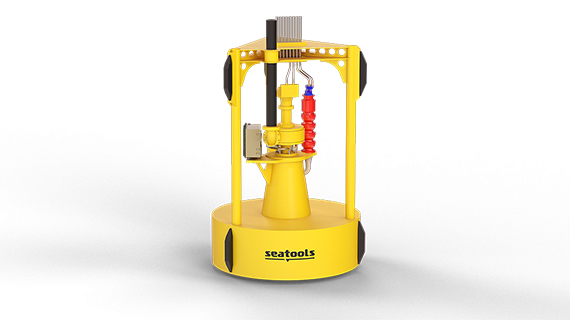 A simple and versatile pile dredge tool
In response to rising demand for effective pile dredging operations, Seatools developed a new pile dredge tool. The tool is designed such that it is capable of excavating a broad range of pile diameters and soil conditions. In terms of efficiency, productivity, and accuracy, the pile dredging tool yields high excavation performance, which leads to short excavation times and cost-effective pile excavation operations.
Key features:
• Broad applicability
• Simple, cost-effective design
• Plug-and-play design
The Carrera 4 mass flow excavation system requires only 46% of the footprint claimed by competing MFE spreads, and a minimum number of operators. Learn how our solutions can optimize your operations.
TRACK RECORD
Our track record is characterized by innovative and productive equipment solutions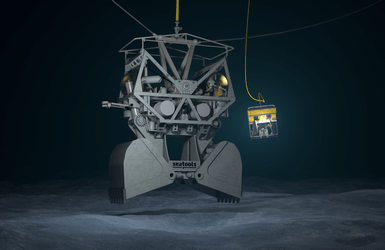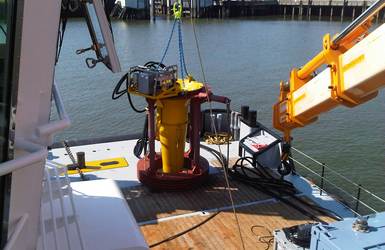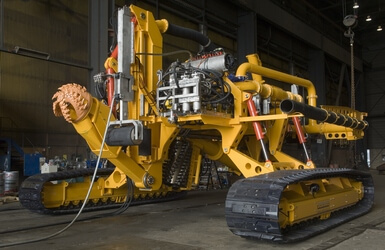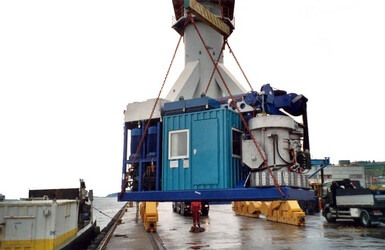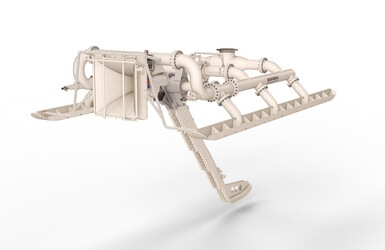 Date:

June 2002

Project duration:

13 months

Client:
Extremely productive deep-water dredging at very high accuracy levels
A new deep-water excavation method was required to excavate in challenging soil conditions at a water depth of 150 meters. To this purpose, the Grab Excavation System (GES) was developed.
Seatools designed and built the grab-positioning ROV and its control system, including full-3D motion compensation. The highly automated GES excelled: it enabled Boskalis and Tideway to excavate at a water depth of 150 meters with production rates of 150 m3/hour in 750 kPa stiff clay at an accuracy level of 20 centimeters.
Date:

September 2013

Project duration:

1 month

Client:
A quickly mobilized and easy-to-operate excavator ideal for remedial spot work
DEME was in the possession of a Seatools fall pipe ROV that included a mass flow excavation insert. For a particular job, however, this configuration could not be applied due to insufficient water depth. Therefore, DEME asked Seatools to design a mass flow excavator based on the existing mass flow excavation insert.
The result was a simple and cost-effective system deployed from a multi-cat vessel. This enabled DEME to complete its assignment with success.
Date:

August 2006

Project duration:

7 months

Client:
Highly effective subsea pipeline trencher
The Arthopod 600 is a subsea pipeline trencher that is suitable for both pre- and post-lay subsea trenching. For this project, Seatools developed an innovative subsea pipeline trenching technique that creates large trenches in hard soils in a very efficient way.
The innovative trenching principles, its high level of automation, and its multiple-soil capability, have turned the Arthropod into a one-of-a-kind machine in the field of subsea trenching.
Date:

July 2002

Project duration:

9 months

Client:
A quickly mobilized and easy-to-operate excavator using a minimal footprint
In order to perform subsea pipeline repairs and pipeline free span corrections in the GOM, our client Oceanteam requested an easy-to-operate mass flow excavator that requires a minimum of deck space.
The result was a very compact, plug-and-play mass flow excavation system. Thanks to its elegant design, the complete spread, including power pack, takes up 20 feet only. The success of the Carrera 4 resulted in the delivery of 3 units to Oceanteam.
Date:

April 2001

Project duration:

5 months

Client:
A pioneering machine in the field of subsea trenching
The Jetting Bull is one of the first towed subsea cable trenchers ever built – a truly pioneering project in the field of subsea cable trenching at its time of completion.
Still today, the machine's design remains highly effective thanks to its tubular frame's dual functionality. Not only does the frame transfer the towing forces, it also transports jetting water to the jetting fingers.
RELATED NEWS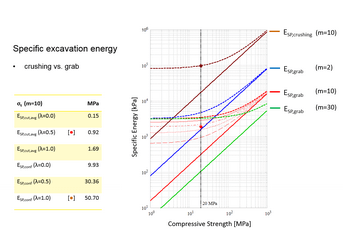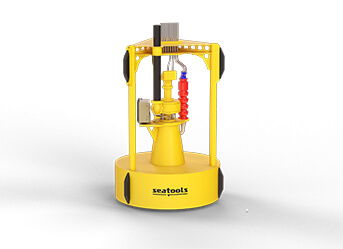 CONTACT
Would you like to discuss your project with our experts?
OTHER CHANNELS
General

+31 (0) 186 68 00 00

Sales

+31 (0) 186 68 00 00
Service (outside office hours, emergency only)

+31 (0)186 65 00 75