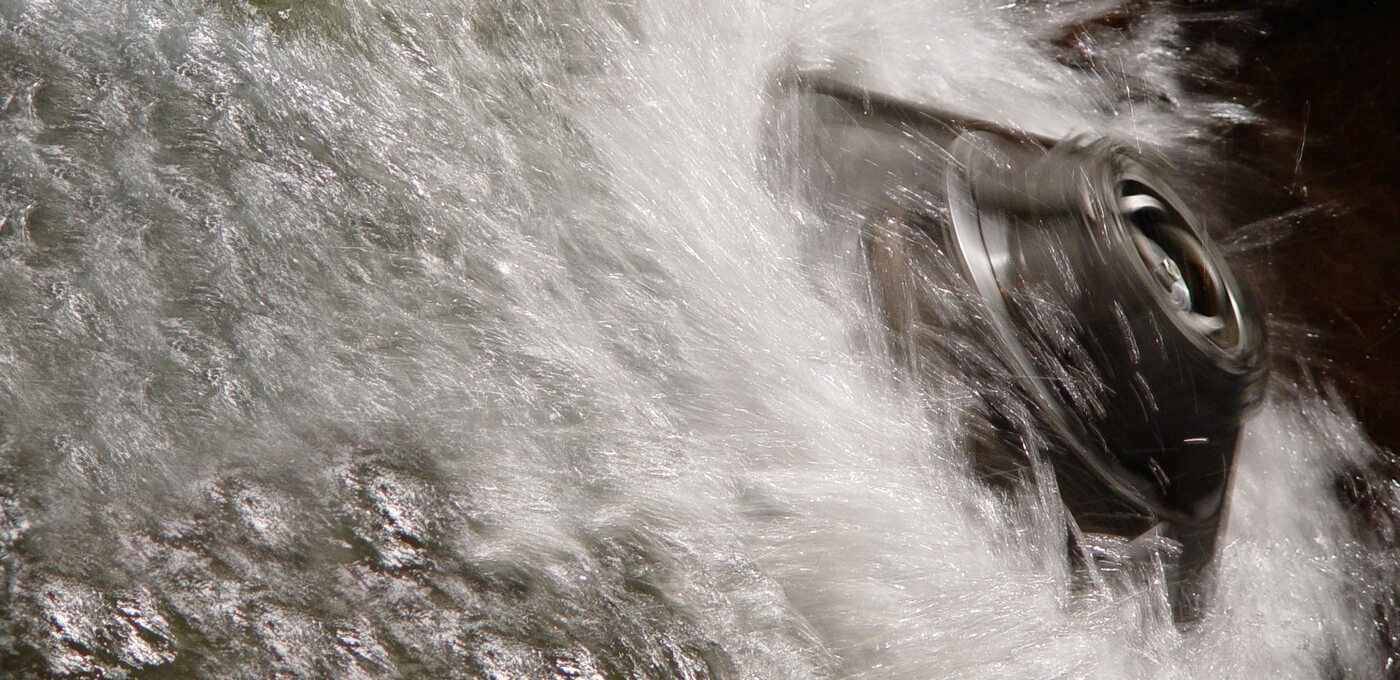 Overview
SEATOOLS DESIGNS, MANUFACTURES, AND DELIVERS CUSTOM-MADE SUBSEA CLEANING SOLUTIONS
The design of effective remote subsea cleaning solutions is characterized by a diffuse set of stringent design criteria. In addition to essentials like equipment reliability and (cleaning) efficiency, remote cleaning solutions should eliminate the risk of damaging a structure or coating (e.g. in the case of riser cleaning), showcase fail-safe behavior at remote locations, and have the ability to cope with obstructions.
In order to meet these criteria, an extensive knowledge base and set of capabilities are required, that includes knowledge of cleaning principles, advanced control engineering, and the design of autonomous vehicles. Because Seatools houses the required knowledge and capabilities, and has a strong innovative capacity, we can design and deliver effective remote cleaning solutions that tackle a broad variety of underwater cleaning challenges. The ROCM underwater cleaning robot is a case in point. Here, we effectively combined the above-mentioned fields of knowledge and delivered a successful remote cleaning solution for a complex cleaning assignment.
EXPERTISE

Expertise on subsea cleaning principles (jetting, brushing, scraping)
Expertise on design and manufacturing of ROVs and subsea tools
Expertise on the collection and processing of marine fouling
Advanced control engineering

VALUE CREATION

Innovative and bespoke subsea cleaning solutions
Flexible and short lead times
Advanced control systems for safe and productive cleaning operations

TRACK RECORD

Design and delivery of a turn-key, custom cleaning machine in 91 days
Innovative designs for highly specific subsea (infra)structure cleaning
Design of remote underwater cleaning robots that prevent downtime
The ROCM removed a 25-centimeter-thick layer of marine growth in a 400-meter-long power plant cooling water intake in as little as 80 hours. How can we maximize your cleaning operations?
Scope
FEASIBILITY, FMEA, AND CONCEPT STUDIES

COMPLETE CLEANING TOOLS AND EQUIPMENT SOLUTIONS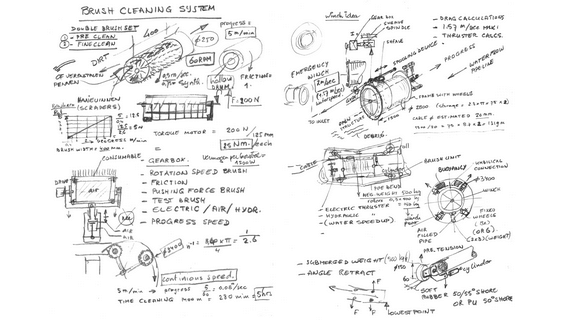 YOU PROVIDE THE CASE AND REQUIREMENTS, WE SEEK OUT A SOLUTION
We perform feasibility and conceptual design studies to investigate potential underwater cleaning solutions. During these studies, we take into account factors such as the type of encountered marine growth, required cleaning capacity, inspection requirements, (potential) obstructions, equipment failure cases, propulsion possibilities, fouling capture, and possible deviations from "as-built" drawings. Because we take these factors and our client's performance criteria into consideration, we are able to conceptualize the best possible cleaning equipment solutions.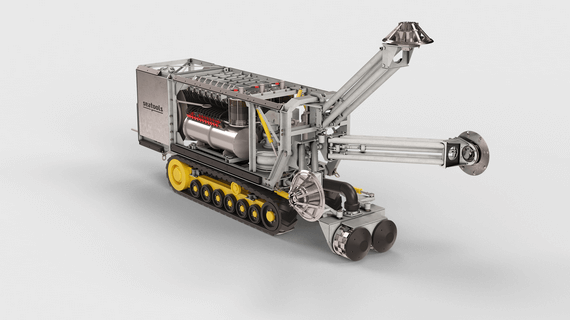 DELIVERY OF TURN-KEY, BESPOKE SUBSEA CLEANING EQUIPMENT SOLUTIONS
Thanks to our multidisciplinary engineering approach, we do not only deliver conceptual designs, but also realize these concepts and deliver full-fledged, turn-key solutions, including all auxiliary equipment. All our equipment solutions are factory tested, and provide training to our clients' operators.
HOW WE CREATE VALUE
INNOVATIVE AND BESPOKE
SUBSEA CLEANING SOLUTIONS

Only custom-made solutions achieve the best possible cleaning performance. Our innovative capacity and our expertise and knowledge of underwater cleaning principles, control engineering, and autonomous vehicle designs, culminate in design equipment solutions that deliver an exact match with the performance criteria of our customers.

FLEXIBLE AND SHORT
LEAD TIMES

In our capital-intensive industry, downtime and long lead times are extremely expensive. Because we understand this, our organization is set up in such a way that projects can be executed within a short time frame. The total lead time for the custom-made ROCM, for example, was as little as 91 days: from scratch to FAT.

ADVANCED CONTROL SYSTEMS FOR SAFE
AND PRODUCTIVE CLEANING OPERATIONS

Our advanced control engineering capabilities facilitate controlled remote cleaning operations. Force control, for example, eliminates the risk of damaging the (coating) surface, while optimizing cleaning progress.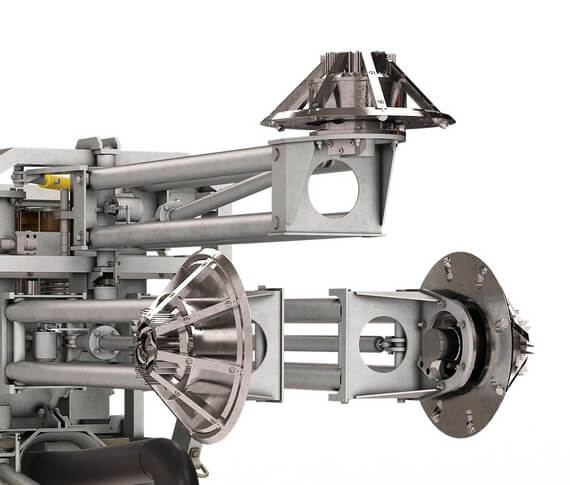 What do you need to get cleaned to guarantee the uninterrupted performance of your primary operations? Our experts gladly discuss your requirements and point out potential solutions for your project.
RELATED CONCEPTS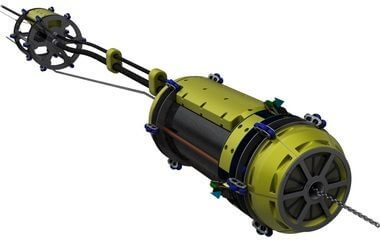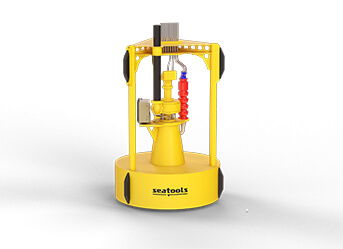 TRACK RECORD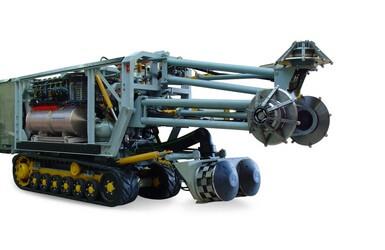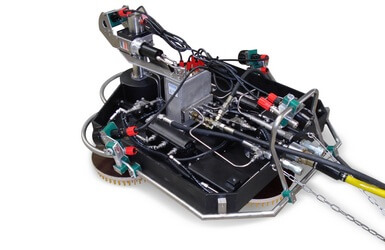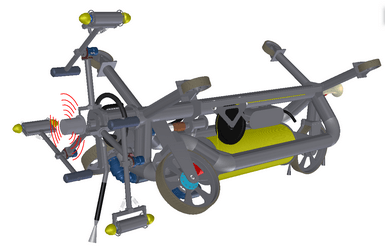 Date:

October 2003

Project duration:

91 days

Client:
Effective power plant cooling water intake cleaning
Our client DCN was contracted to clean a power plant's cooling water intakes affected by a 25-centimeter-thick layer of biofouling. The end customer's main concern – safety and a minimum of downtime – required the design of a dedicated underwater cleaning machine.
Seatools developed a dedicated Remotely Operated Cleaning Machine (ROCM) that proved very successful: the ROCM cleaned a 400-meter-long tunnel in as little as 80 hours.
Date:

September 2008

Project duration:

4 months

Client:
Control system for remote hull cleaning
Hydrex successfully developed a diver-operated hull cleaning machine, but wanted to advance the development of the machine by incorporating a large degree of automation, and eliminate the need for a diver.
Thanks to its advanced control engineering capabilities, Seatools was asked to step in, and successfully developed and integrated a remote control system. The system facilitated position control, and controlled the cleaning process without requiring a diver.
Date:

July 2012

Project duration:

4 months

Client:
Power plant intake cleaning without downtime
The cooling water intakes of a German power plant suffered from biofouling. Seatools was approached to develop a concept for the remote cleaning of circular intakes while avoiding power plant downtime.
The project resulted in a feasible conceptual design in which all related operational aspects were taken into account. The design was capable of traversing the circular cooling water intakes, while cleaning their surfaces without causing any downtime.
Related news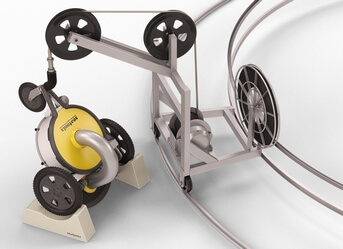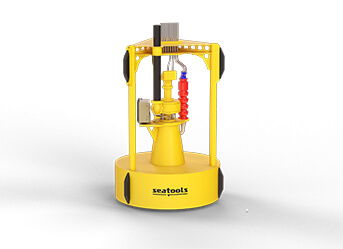 Contact
Would you like to discuss your project with our experts?
OTHER CHANNELS
General

+31 (0) 186 68 00 00

Sales

+31 (0) 186 68 00 00
Service (outside office hours, emergency only)

+31 (0)186 65 00 75