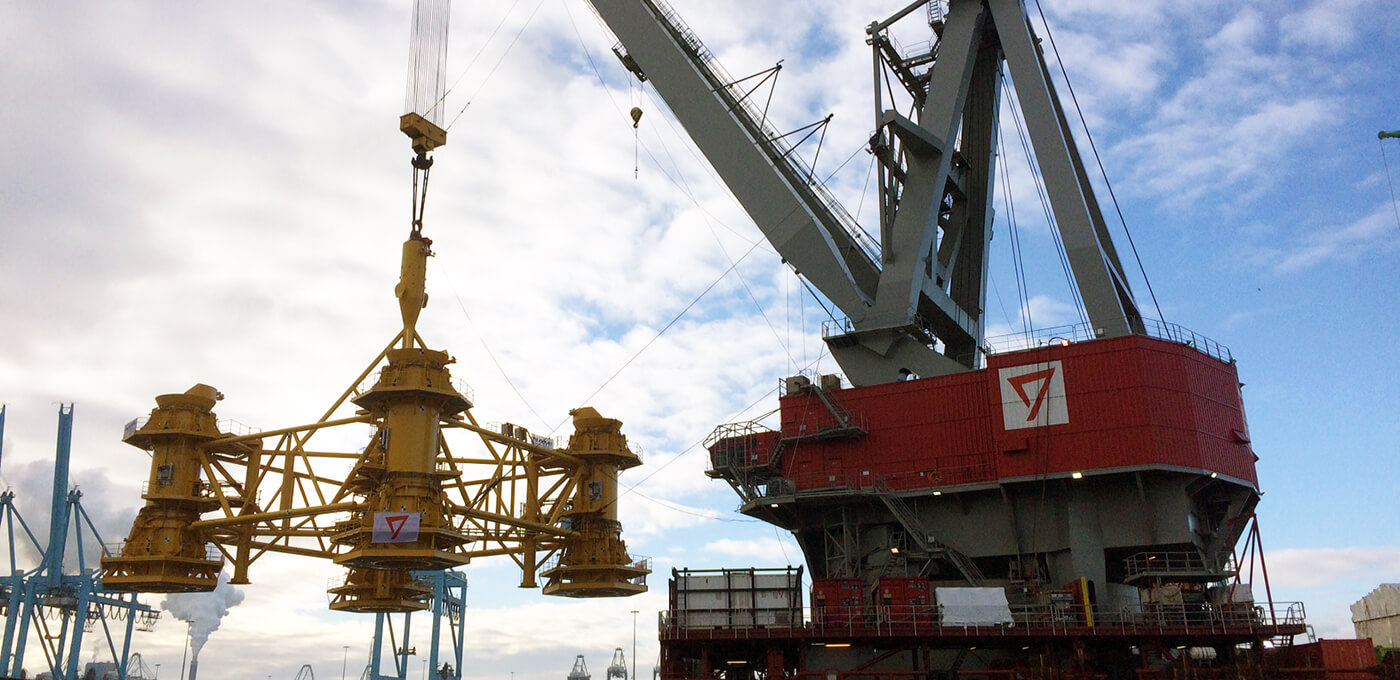 ►Offshore and Subsea Installation ►Subsea Hydraulics►Subsea Monitoring and Control
On behalf of its client Seaway Heavy Lifting, subsea technology company Seatools completed the development, manufacturing, and installation of a piling instrumentation and control system for the Pile Installation Frame (pre-piling template) which will be used for the construction of a large offshore Windfarm. Seaway Heavy Lifting will commence the offshore installation operations in April of this year.
For this project, Seatools' scope of supply comprised the complete mechanical, electric, hydraulic, and software design of the pile template instrumentation and control system, complemented by the hydraulic and mechanical system for template leveling and pile positioning. The entire project has been successfully completed in as little as 5 months, from signing the contract to FAT.
Marcel Remijn, Project Manager at Seaway Heavy Lifting, : "We are very pleased with the technical solutions Seatools have provided to our Pile Installation Frame. By using proven technology and ruggedized equipment we are confident that the provided technology will result in a solid performing Pile Installation Frame. Working together with Seatools has been an absolute pleasure and we look forward to see the Pile Installation Frame in action"
The project's challenging deadline required close collaboration between Seatools' in-house technical disciplines and related suppliers, as well as between Seatools and its client Seaway Heavy Lifting. Early-stage dialogues, during which Seatools linked its technical expertise to the operational expertise of the client, opened up a number of
suitable technical configurations and potential solutions. Complemented by a thorough FMEA analysis, this resulted in an adequate system architecture and related solutions featuring a high level of redundancy, a solid backup strategy, and innovative measurement technologies. Thanks to the delivered solutions, Seaway Heavy Lifting is set to stay well within the limits of the prescribed pile installation tolerances.
Jan Frumau, Managing Director at Seatools, said: "In addition to the honor of collaborating with a prominent EPCI player like Seaway Heavy Lifting, I am very pleased with the delivered technical solutions. We are confident that the developed solutions will allow Seaway Heavy Lifting to perform efficient piling operations. The highly ruggedized equipment will result in a solid performance, despite vibrations and shock loads that are present during piling operations."
Apart from drawing on Seatools' extensive subsea technology toolbox – containing rugged dredging sensors, among others – the project demanded for the development of several innovative measurement technologies that facilitate efficient piling operations. A case in point is the Post Pile Stick-up Measurement system, which facilitates very accurate determination of the (relative) pile stick-up height.
Learn more about the Pile Installation Frame on the PIF project page
Learn more about Seatools' offshore and subsea installation solutions on the Offshore and subsea installation page
Contact
WOULD YOU LIKE TO DISCUSS YOUR PROJECT WITH OUR EXPERTS?
OTHER CHANNELS
General

+31 (0) 186 68 00 00

Sales

+31 (0) 186 68 00 00
Service (outside office hours, emergency only)

+31 (0)186 65 00 75